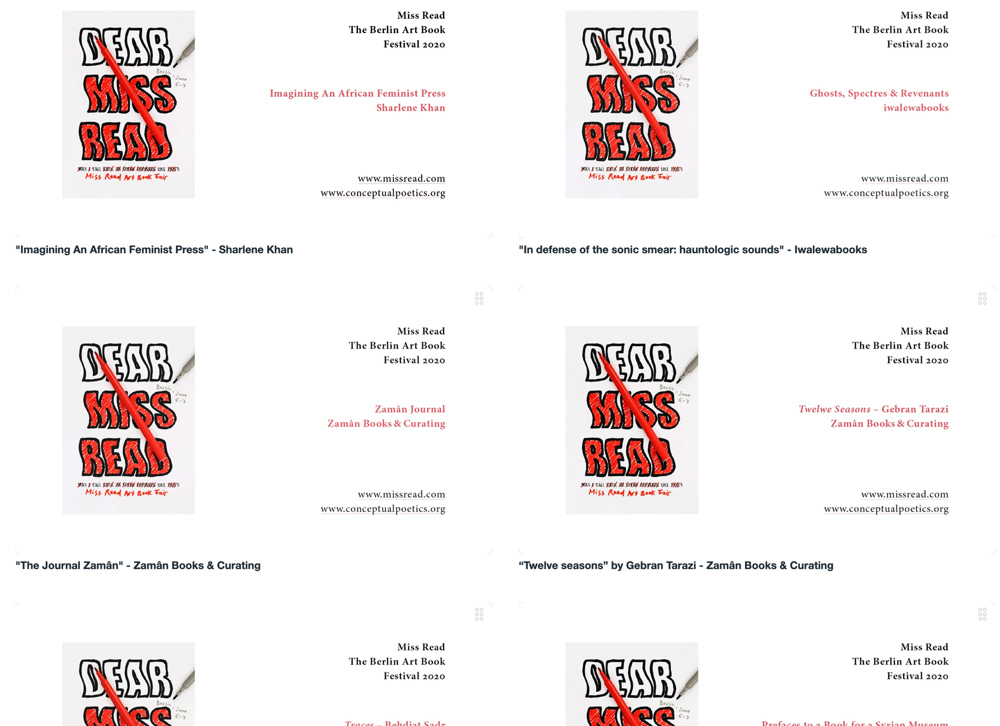 ---
Online Live Panels
August 25, 4pm, The Politics of Art Book Fairs
August 25, 6pm, Publishing as Curatorial Practice
August 26,  4pm, Book Distribution and Circulation of Thinking in Africa
August 26, 6pm, Reading/Writing as Decolonial Practice/Action
The Politics of Art Book Fairs
Can we decolonize the space of independent publishing? Art book fairs today are not only a venue for representing a separate, prior publishing scene, they are also a central forum for constituting and nurturing a community around publishing as artistic practice. A global phenomenon, these communities take the form of agile, adaptable, and wide-ranging networks.
This round table gathers some of the most interesting actors in the field in order to have a vibrant dialogue. How are space and narratives created, and who is taking a risk? Core themes to be discussed are: who is selected as exhibitor and who isn´t, gift economies, and the implicit and explicit politics of Art Book Fairs.
With: Sunny Iyer (Printed Matter Book Fairs), Qing Zhou (Shanghai Art Book Fair), Hedieh Ahmadi (Bazar Art Book Fair), Dan Mitchell (ASP London), Tokyo Art Book Fair (tbc), Noora Al Mualla (Sharjah Art Book Fair), Leon Muñoz Santini (rrreplica, Mexico City), JohannesWilli (I Never Read, Basel)
Moderated by Pascale Obolo (African Art Book Fair) and Michalis Pichler (MISS READ)
Register HERE to attend the live event
---
Publishing as Curatorial Practice
Book publishing is not only an editorial and technical endeavour but also an curatorial one: Caring for authors, texts, ideas and creating spaces for works, words and thoughts.
This round table looks at the curatorial aspects of publishing – on how to bring people and texts together, how to make aesthetic decisions on not only content but also the style of the publication and its sensuality. The role of the artists and the designer are crucial here to make each book a unique aesthetic experience. Editors act as curators here, stimulating discussions and creating aesthetic experiences.
With: Lola Shoneyin (Director Aké Festival), Zukiswa Wanner / Paivapo Publishers, Aryan Kaganof (herri magazine), Tinashe Mushakavanhu (Black Chalk)
Moderated by Lweendo Hamukoma (The Commune)
Panel organised by iwalewabooks and Afrikadaa in collaboration with Miss Read
Register HERE to attend the live event
---
Book Distribution and Circulation of Thinking in Africa
Book publishing industry is having though times in Africa. With the penetration of internet and the reduction of readers, publishers are struggling to keep the business alive.
This round table is the occasion to scrutinize the domain of book distribution in Africa. What are the strategies, the challenges and the hopes? Are some of the questions to be adressed during this one hour talk.
With: Jean-Claude Awono (director of Ifrikiya publishing house, Cameroon), Aboubacar Demba Cissokho (cultural critic, Senegal), Wanjeri Gakeru (jalada) (tbc)
Moderated by Parfait Tabapsi (Mosaïques)
Register HERE to attend the live event
---
Reading/Writing as Decolonial Practice/Action
Drawing from contributors to the workbook Decolonising Art book Fairs: Publishing Practices from the South(s) the roundtable will sensitise and share insights into the varied publishing practices in Southern Africa and beyond. Attending to the question of audiences, the writers and their readers, the discussion centers discourses and urgencies around epistemic justice and making knowledge and research accessible; and how the formation of communities of readers and writers can be an approach towards reading/writing as decolonial practice/action.
With: Mario Pissarra, Daniela Hermosilla, Fouad Asfour, Sharlene Khan
Moderated by Nkule Mabaso and Moritz Grünke
Register HERE to attend the live event